Moon in the Darkness: 100 Reflections on the Kingdom of God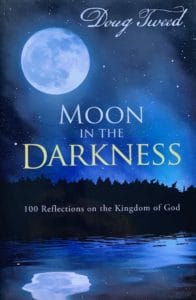 In the tradition of Oswald Chambers and A.W. Tozer, Doug Tweed's 100 reflections invite Christians into a life that reveals God's kingdom to the world.
Topics include the life of a disciple, the church, family, prayer, revival, and intimacy with the Holy Spirit. Because each reflection includes multiple scripture references, they can be used as tools for both personal spiritual growth and small group Bible study and discussion.